Make coffee your
craft and brew
people happy​
Coffee is no longer just a beverage – it has become a habit and a lifestyle. If you are someone who not only enjoys consuming, but also aspiring to make this influential beverage your craft, we are here to help you embark on this dream!​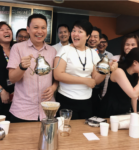 Learn coffee in a fun and engaging way​
A team that learns, laughs and plays together, stays together. Gain knowledge and skills to be a smarter consumer of coffee through experiential learning and engaging activities with your team!​
Life is too short to be working for someone else's dream​
Having the dream of setting up your own cosy space that serves up quality brews? Let us work with you to take your first step into pursuing your passion and realising your dream.  ​