A team that learns, laughs and plays together, stays together. Gain knowledge and skills to be a smarter consumer of coffee through experiential learning and engaging activities with your team!
Organise your corporate event (e.g teambuilding event, staff appreciation event, etc.) with us and learn coffee in a fun and relaxing manner. Customise a session based on your preferred content or activity, duration and budget. Simply contact us via the enquiry form below and let us do the rest for you!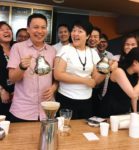 Having the dream of setting up your own cosy space that serves up quality brews, but have no idea how to execute it? Let us work with you on a fully-customisable scope on your F&B concept setup, and do things right from the very beginning till the last step of your planning. Even beyond materialising your concept, we have a range of beverage products that can ease your drinks preparation.
Take your first step into pursuing your passion and realising your dream by contacting us via our enquiry form to let us understand your needs!